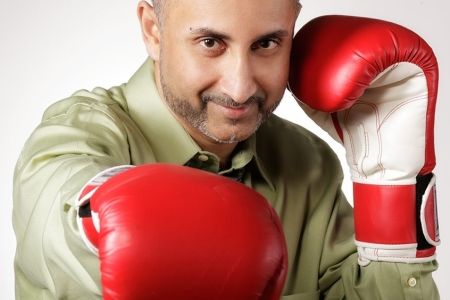 Introduction to Mir Khan - Specializing in Real Estate Sales
Mir is a trusted real estate professional who specializing in sales of: homes, townhouses and condos. Known by his clients as "The Friendly Fighter" for the passionate dedication he brings to serving their real estate needs, Mir thrives on working hard - and fighting hard - to help:
• Sellers get top dollar for their home in the shortest time;
• Buyers find their dream home in a community they love; & …
• Investors achieve a great ROI on every deal.

Always mindful, his clients are making one of their biggest investments, Mir listens deeply to understand their goals and desires. Then, he works in close collaboration and focused persistence to get them the very best Real Estate deal possible.

With years of award winning sales experience, Mir has found the secret to listing and selling Real Estate for top dollar: Make your home stand apart and shine! Mir has helped local buyers and sellers just like yourself, and knows how to locate the finest properties then negotiating the best deals. Mir stays up-to-date and knowledgeable about the latest market conditions, government regulations, and upcoming developments — so that you don't have to.

Well regarded as an honest, down to earth and tenacious agent, Mir will keep you updated with the market knowledge you need to make well-informed decisions.

To do this, he uses a wide range of innovative marketing tools including; professional videos, virtual walk- throughs, breathtaking photography, floor plans, professional staging, social media & many others.

With a strong network of industry professionals behind him, Mir can call upon highly skilled painters, carpenters, electricians, interior designers and others to help get your property in top showroom shape, while maximizing its market value.

Being a competitive Boxer, Mir will always brings his friendly, yet fierce fighting spirit to the table when negotiating for the best price, terms & offers on your behalf.

So, whether you're selling or buying, you can be confident Mir is committed to providing you with all the expert guidance and support needed to make the entire process both enjoyable and worthwhile.

When not working, Mir loves sharing life with his beautiful Wife and young Son, staying fit by honing his Boxing skills – and giving back through charitable causes including Easter Seals & Kids Play; being a Block Watch Captain in the Sullivan Station (in Surrey, BC, Canada) community where he lives; the ex-President of the Strata community, the Treasurer & Director of CSOFM, and the Ambassador at the Museum of Surrey, plus, involved in other local events.

Let Mir assist you in finding your dream home, in a neighbourhood that is right for you, and in the price range you want. Or, if you are interested in selling a property, Mir can also have the expertise to help you get the fastest sale possible & at the best price. Or maybe, you like to buy or sell Commercial property - Mir can also help you with that.

Maybe you are looking for an investment opportunity or you are moving ANYWHERE in Canada (Coast-to-Coast) or Worldwide, Mir can help you with that as well. He has his CIPS (Certified International Property Specialist) designation and a strong network of Global International Realtors, just under 4,400 - only to help you connect with the right local Realtor in that specific International market. Mir can help you with Merges & Acquisitions of businesses with connections in over 63 different Countries Worldwide.

Mir is an investor himself locally in British Columbia, Canada, and, owns investment property internationally. He has the right connections for you to international lawyers and accountants, ensuring all your questions are addressed making you feel: confident, safe and a proud owner!


Feel free to connect with Mir and ask questions about Real Estate; locally or internationally - always here to service you.
Mir is waiting to hear from you ... :-)
-
For any Real Estate related questions & inquires in the Fraser Valley or the Greater Vancouver Area, BC, Canada - please feel free to visit my website at: https://www.MirKhan.ca/​​ and follow me on my social channels below:


Facebook (personal) - https://www.facebook.com/mirkhanrealtor​​
Facebook (business): https://www.facebook.com/mirkhanrealestate
Instagram - https://www.instagram.com/mir_khan_century21/
YouTube - https://www.youtube.com/user/mirkism/​​
LinkedIn - https://www.linkedin.com/in/khanmir/
Twitter - https://twitter.com/M_K_Real_Estate​​
TikTok - https://www.tiktok.com/@mirkhanrealestate
REW: https://www.rew.ca/agents/80555/mir-khan
Zillow: https://www.zillow.com/myzillow/Profile.htm
AREAA: https://www.areaa.org/customer/member/5419
Yelp: https://www.yelp.ca/biz/mir-khan-century-21-surrey
Website: https://www.MirKhan.ca/

Be Safe, Be Healthy & Be Happy! :-)

Mir Khan
Certified International Property Specialist, International Realtor Member, Full-time Professional Realtor
Mir Khan Personal Real Estate Corporation
Century 21 AAA Realty Inc.
(778) 558-4427
Mir@MirKhan.ca
www.MirKhan.ca