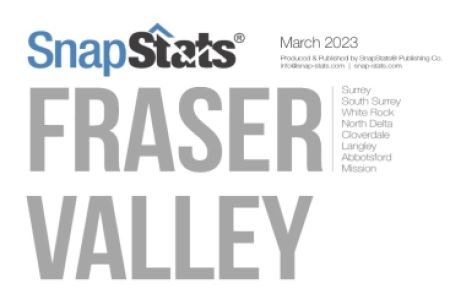 Fraser Valley Real Estate Board - Stats for March 2023
Stats from March 2023
To view the YouTube stats video, please or click below:
The Real Estate market in the Fraser Valley has been significantly better since February 2023 at sales ratio of 25%, and now in March 2023 at sales ratio of 44% -- overall (for all property types) -- now in a strong 'Sellers Market'.
Looking at Surrey, BC, Canada (for detached homes); the February 2023 sales ratio was at 14% -- at a 'Balanced Market'; and, for March 2023 sales ratio at 28% -- switching to a 'Seller's Market'. The average sales price was practically unchanged - from Feb 2023 to Mar 2023 for detached homes in Surrey, BC, now at: $1,430,000. The inventory increased in Feb by 10% -- to 490 homes listed; and the sales, a WHOPPING 125% MORE in comparison to Feb 2023 for all detached homes in Surrey, BC -- to 137 SOLDS in Mar 2023. Lastly, the Days-On-Market (DOM) dropped by 32% from Feb 2023 to 13 Days-On-Market (DOM). For the most part, we are in a GOOD 'Seller's Market' (ask me what this means) at 28% Sales Ratio for the entire Surrey detached single family homes.
The Detached Homes (Single Family Homes) in Sullivan Station Community - market has picked up since Feb 2023 at Sales Ratio of 9%; to quite STRONG Sales Ratio at 32% for Mar 2023 --> a Strong 'Seller's Market'.
"After months of uncertainty made it difficult for buyers and sellers to re-enter the housing market, we may well be seeing a turning point," said Narinder Bains, Chair of the Fraser Valley Real Estate Board. "The pause in rate hikes has helped to restore a much-needed sense of predictability, which is building consumer confidence. As a result, we're starting to see more traffic at open houses along with more multiple offer situations." (Source: News Release Fraser Valley Real Estate Board, April 4, 2023)
To find out more about the condos and townhomes market in the Fraser Valley, or any real estate stats for the Province of British Columbia, Canada -- please connect with me, and I will be happy to coach and guide you further.
To connect with me, please feel free to call/text me at: (778) 558-4427, or, email me at: Mir@MirKhan.ca for full details and understanding of how the market is doing, right now. I can share the most recent Fraser Valley and the Greater Vancouver Stats with you. Please call us; my Team & I will be glad to be of service. :-)
Thanks for your time in reading this blog of the stats for March 2023 in the Fraser Valley.
Mir Khan
Mir Khan Personal Real Estate Corporation
Licensed full-time Realtor - Local and International
Certified International Property Specialist, International Realtor Member
Century 21 AAA Realty Inc.
(778) 558-4427
Mir@MirKhan.ca
www.MirKhan.ca
-
DOWNLOAD your FREE HOME SELLERS GUIDE (+checklist) and discover the smart way to get "TOP DOLLAR" for your Home in today's market... ➡️https://smarthomesellersguide.ca/​​
If you are currently in the market, looking to buy - your dream Home, or, sell - getting TOP $$$ for your Home, or Invest - next cash-flow investment property; then don't be discouraged by making a decision now - I can help - call me today!
Over years of being a Professional Full-time Realtor with RE/MAX Canada and Century 21 Canada -- I have established a FULL-SERVICE & ONE-STOP-SHOP! Myself and my Network of Team can help you with almost EVERYTHING -- from getting excellent financing, home inspections, lawyers/notary service, contractors for almost every trade, and more ...
It can get overwhelming to understand the ever changing market. Get the monthly FREE Real Estate Report to see a breakdown of all cities and neighbourhoods in the Fraser Valley, did I say it was FREE! :-)
Also, I have the secrets for Sellers to optimize their House Sale + for Buyers to pick the best neighbourhoods for healthy negotiations.
Here to Service your Real Estate Needs: Locally, Canada-Wide, and, Internationally!
I invite you to follow me on my social media channels & my websites:
Website - https://www.MirKhan.ca/​​
Full digital business card and profile (OVOU) - https://ovou.me/mirkhan
Facebook (personal) - https://www.facebook.com/mirkhanrealtor​​
Facebook (business): https://www.facebook.com/mirkhanrealestate
Instagram - https://www.instagram.com/mirkhan_realtor/
YouTube - https://www.youtube.com/user/mirkism/​​
Linktree - https://linktr.ee/mirkhan_realtor
LinkedIn - https://www.linkedin.com/in/khanmir/
Twitter - https://twitter.com/M_K_Real_Estate​​
TikTok - https://www.tiktok.com/@mirkhanrealestate
Pinterest - https://pin.it/2wE20nK
REW: https://www.rew.ca/agents/80555/mir-khan
Zillow: www.zillow.com/profile/mir-khanC21/
AREAA: https://www.areaa.org/customer/member/5419
Yelp: https://www.yelp.ca/biz/mir-khan-century-21-surrey

#RealEstateStatsMarch2023 #Stats #FraserValley #FraserValleyStats #HousingStats #MarketReport #HousingMarket #SurreyReport #SurreyHousingReport #MirKhanRealEstateBC #TheFriendlyFighter #Systematize #Consistency #Discipline #MirKhan #Mir #Khan #Realtor #SurreyRealtor #SurreyBC #Advice #HomeForSale #HomeSellers #HomeSelling #ForSale #SurreyHomeForSale #SurreyRealEstate #GreaterVancouver #GreaterVancouverRealtor #Canada #CanadaRealEstate #Realty #Homes #Home #Property #Century21Canada #C21Canada #LuxuryHomes #Preconstruction #RealEstate #RealEstateAgent #RealEstateInvesting #InternationalRealtor #IRM #CertifiedInternationalPropertySpecialist #CIPS #BestTimeToSell #BestTimeToBuy #HomeBuying #FirstTimeHomeBuyers #RealEstateInvesting #BlockWatchCaptain
-
Stats for for March 2023 - Fraser Valley Real Estate